Home
BIG BIKE <> SMALL CAR <> TRAILERS
Time Out trailers & N-Line one wheel trailers
845-339-3390 <> Business
914-388-3338 <> Cell & Text
888 Number no longer in service.
3 Time Out Deluxe Trailers in stock ready to go... 2 black/grey, 1 white/grey...
Lay away now. Make monthly payments and pick up by May 1-2021.This saves you on next years price increase in February, should there be any. In stock only campers...
1 white Dart cargo trailer...
By appointment. I camp also... 8-27-2020
Any trailer order about 2 weeks out before shipping...
Since 1982, Karen and I have been selling Camper, Cargo and Carry trailers for the big bike small vehicle market...

We have over 4000 trailers sold all over the USA and Canada

as wel

l as Australia

,

Norway and Sweden. We are the #1 drop shippers of trailers...

We take the time to answer all your questions from beginning to after you receive trailer. Overseas sales we help you every step to your entry port...
Karen and Fred Burger take great pride in answering any and all questions you may have on any trailer that we sell or possibly other trailers also.
We are the ones who answer the calls and take your order...
We know that for most people, it is not possible to see trailers up close or to compare the products... This site has many photo's.
We can drop ship trailers anywhere and will be with you from time of purchase to after you receive it. We love happy customers and this is why Karen and I go the extra just as if you were at our place... My daughter Teresa is now here to help also.
We listen to customers needs and help you with your trailer selection...
We want your purchase to be informative, enjoyable and memorable...
We will tell you if a option is a good value or maybe not needed at all, because we want you to be happy with the trailer for many years to come...
We are the number one drop shipper of trailers all over the USA and Canada and strive for 100% satisfaction and will help you out after the sale should you have any problems...
We must take all orders over phone... Web sites are not secured... Karen or Fred Burger are the only ones who will take your order...
We may ask questions to inform you of all options that is available and which one works best. This is why we have done it this way successfully since 1982...
We strive for you, the customer, to be sure you get your product correct the first time, on time, every time...
When a trailer is purchased from us, you will receive a certificate of origin issued to me from the manufacturer and a bill of sale... These two papers you will take to receive a trailer plate... Canada customers will also get two other papers for their requirements and will also need a brokerage company... New York State Sales Tax I collect on residence only. All other States, if applicable, taxes paid at time of registration...Broker needed for international sales also...
Live in America... Buy American made products... Not cheap
Live in America... Buy American made products... Not cheap

China made knock-off

trailers and hitches from the south east company.

You get what you pay for...

Don't call me with cheap China junk problems you may have. Call them and good luck. You'll need it...
Click on "Special and video button, 3rd menu button down on right" for current discounts... Camper set up there also...

All trailer prices and options 4th menu button down on right...
Note: The following trailers are no longer available by Time Out Trailers or Fred Burger Trailers; CM-1000, CM-2000, CM-LTD, Zephyre, Wind-raider, Egg, HRT and Aerodyn... Their fiberglass company they used had a fire 2018 all trailer molds were lost...
Thank You and see you on the next page...
Karen & Fred Burger...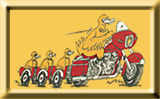 .