Home
BIG BIKE <> SMALL CAR <> TRAILERS
Time Out trailers & N-Line one wheel trailers
845-339-3390 Business, no text <> 914-388-3338 Call & Text...
Time Out Campers will have a minimum of $400.00 increase come November 1-2021.

Cargo trailers increase also $200.00 plus.

What did you think $15.00 minimum wage was going to do... Just check, Food bill, gas, new cars, RV industry, health insurance to name a few.... All has huge increases...

If you want a trailer next year order this year and save a few hundred dollars... Plus save more by checking out my specials...
In Stock:
Will set up campers and go over any questions you may have... By Appointment...
4 black/Grey Deluxe with white, chrome & Aluminum wheels. Arriving soon...

2 Deluxe black with black/grey stripe... 1 with electric brakes... In stock...

1 Deluxe white with black/grey stripe white wheels... Sold... Can order one in...

1 Camper "Big One" black/grey stripe... SOLD... Can order one in for you...

1 Dart white with white wheels...

1 Trailer Pro 32 cubic feet cargo. Black with 12" chrome wheels... Was $995.00 Sale price $875.00

There will a big increase in trailer prices come February 2022 including all options... This is because of all increased in parts..

.

Don't blame the manufactures... Blame minimum wage going up $5.00 a hour more plus.

.

.It effects all... Gone grocery shopping lately? Big RV's gone up over five thousand per unit on average... Order trailer now & save...

Since 1982, Karen

and I have been selling Camper, Cargo

trailers for the big bike small vehicle market... 75% camper sales sold to car owners...

Each trailer can be seen on right by tapping that menu button. Each trailer model has many photos, full descriptions and specifications on that page...

All trailers on this site are USA made... Not China Junk...
Specials, Trailer Price and options 3rd menu button down on right...
Any trailer ordered is about 2-3 weeks out before shipping...
Summer expect longer wait times...
Karen and Fred Burger take great pride in answering any and all questions you may have on any trailer that we sell or possibly other trailers also...
We are the the only ones who answer the calls and take your order. We take the time to answer all your questions from beginning to and after you receive your trailer. Overseas sales we help you every step to your entry port...
We must take all orders over phone... May ask questions to inform you of all options that is available and which one works best. This is why we have done it this way successfully since 1982... Karen or Fred Burger are the only ones who will take your order....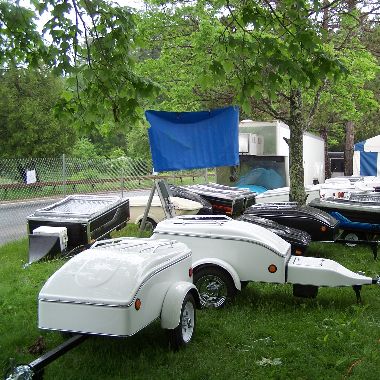 We specialize in making your internet sale a pleasurable experience... Looking forward to making you a happy camper or cargo carry person... For the most part, folks are unable to see trailers up close and personal or to compare the products... That is why the many photo's... Karen or Fred will spend all the time that is needed to answer your questions both before and after the sale...
We have trailers for the big bike and small cars... Can also be used for jeeps, hot rods and ATV... Camper and cargo trailers are our specialty... No longer deal with motorcycle carry trailers... All five I was a dealer for no longer in business...
We take great pride in shipping trailers all across the USA, Canada and as far away as Australia, Norway and Sweden... I will drop ship trailers anywhere and be with you from Time of purchase to after you receive it... Want 100% customer satisfaction our goal... Have over 4000 happy customers out there...
We listen to customers needs and help you with your trailer selection... We want your purchase to be informative, enjoyable and memorable... Will tell you if a option is a good value or maybe not needed at all... We Do Not pressure you for any options. Will suggest to you what is popular......
We strive for you, the customer, to be sure you get your product correct the first time, on time, every time...
The camper and cargo trailers are great for motorcycles, jeeps, hot rods, 4x4, trikes, two wheels in front, trikes two wheels in back and 4 cylinder cars and trucks. Even sold a couple to the bigger vehicles...
Live in America... Buy American made products... Not cheap China made knock-off trailers and hitches from the south east company...

You get what you pay for...
Don't call me with cheap China junk problems you may have. Call them and good luck. You'll need it.

Remember... If you buy a China cheap knock off of a Time Out Camper to save a couple hundred dollars, you will get no "Solace" from me. Don't know the meaning? Look it up. Just because USA is in a name does not mean it is made here.

Time Out Deluxe has 12" wheels NOT 8"... Time Out Deluxe has 23 cubic feet of cargo space NOT 16... Time Out Does Not lie they have 23 cubic feet on the Deluxe, they do. A couple companies guess at their over inflated cargo space. Lie...

Note's

for menu buttons right side;

Each trailer will have full information about it including size, colors and dimensions.

Price for trailers and options 3rd Menu Button down on right...
Click on Specials button, second or third button down on right for current discounts...
Camper set up is third button down on right...
Note: The following trailers are no longer available by Time Out Trailers or Fred Burger Trailers; CM-1000, CM-2000, CM-LTD, Zephyre, Wind-raider, Egg, Blade, HRT and Aerodyn... Fiberglass company had a fire few years back, all trailer molds were lost...
We are not the best because we are the oldest... We're the oldest because we are the best... Going above and beyond to help customers...
Thank You and see you on the next page... Karen & Fred Burger...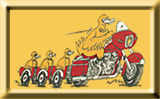 .