BIG BIKE <> SMALL CAR <> TRAILERS
Time Out trailers & N-Line one wheel trailers
845-339-3390 Business, no text <> 914-388-3338 Call & Text...
Time Out Campers is an excellent choice for pop up tent camping... Offers total off the ground camping that opens up to 14'8" of hotel space, with separate queen size sleeping area. Separate dining area. Separate storage area. Table, chair and queen air mattress included. Weighing only 380 pounds with 4 minutes set up time.
The past few years, most of my camping trailers have been sold to small vehicles. These trailers are a excellent choice because of the weight restrictions on small vehicles...With Deluxe trailer weighing in at 380 pounds, plus cargo space items of 125-150 average weight. puts you at 500 - 550 pounds with 20 - 25 pounds tongue weight. I've had people with Motorcycles, Smart Cars, Mini Cooper, Subaru, Chevy Volts, Jeep and yes a Ford Dually leave my place in past two years... No longer sell motorcycle carry trailers...
Since 1982, I have been selling Camper and Cargo trailers for the big bike small vehicle market... 75% camper sales sold to car owners... I am the only Northeast dealer that stocks Time Out camping trailers and will set up for you. The other NY dealer has his business in Florida past 10 years or more...

Each trailer can be seen on right by tapping that menu button. Each trailer model has many photos, full descriptions and specifications on that page...

All trailers on this site are USA made... Not China Junk... Exception, trailer jacks... None made in USA...
Specials, Trailer Price and options 3rd menu button down on right...
Any trailer ordered is about 2-3 weeks out before shipping...
Summer expects longer wait times...
We take great pride in answering all your questions on any trailer you may have... Karen and I are the only ones who take your calls, answer all your questions from beginning to after you receive your trailer...
Overseas sales, we help you every step to your entry port... Any trailer sold outside of USA will need a broker on your end for entry to your country for collection of taxes and any needed paperwork. Sold trailers to Canada, Australia, Norway and Sweden... Will drop ship anywhere, except China...
I take all orders over phone. Ask questions to inform you of all options that is available, and which one works best or not. To ensure that you get the product and options correct... Fred Burger is the one who will go over all and take shipping and billing information... Done it this way successfully since 1982 with over 4,000 trailer sales...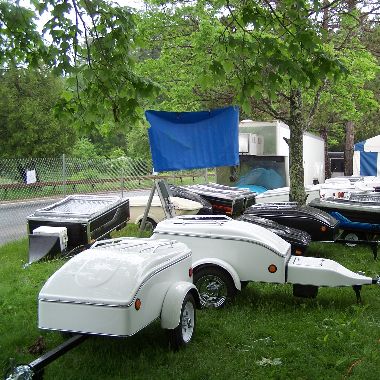 I try making your internet sale a pleasurable experience... Looking forward to making you a happy camper or cargo carry person... For the most part, folks are unable to see trailers up close and personal or to compare the products... That is why the many photo's... Will spend all the time that is needed to answer your questions both before and after the sale...
I listen to customers' needs and help you with your trailer selection. Want your purchase to be informative, enjoyable and memorable. Will tell you if a option is a good value or maybe not needed at all. Will not pressure you for any options but suggest to you what is popular...
The camper and cargo trailers are great for motorcycles, jeeps, hot rods, 4x4, trikes, two wheels in front, trikes two wheels in back and 4-cylinder cars and trucks. Even sold a couple to the bigger vehicles...
Live in America... Buy American made products... Not cheap China made knock-off trailers and hitches from the southeast company...

You get what you pay for...
Don't call me with cheap China junk problems you may have. Call them and good luck. You'll need it.

Remember... If you buy a China cheap knock off of a Time Out Camper to save a couple hundred dollars, you will get no "Solace" from me. Don't know the meaning? Look it up. Just because USA is in a name does not mean it is made here.

Time Out Deluxe has 12" wheels NOT 8"... Time Out Deluxe has 23 cubic feet of cargo space NOT 16... Time Out Does Not lie they have 23 cubic feet on the Deluxe, they do. A couple companies guess at their over inflated cargo space. Lie...

Note's for menu buttons right side;

Each trailer will have full information about it including size, colors and dimensions.

Price for trailers and options 3rd Menu Button down on right...
Aluminum skin like above is temporarily not available due to aluminum shortage...
Will set up campers and go over any questions you may have... By Appointment...
1 black/Grey Deluxe with white wheels.
2 Deluxe black with black with grey stripe and aluminum wheels...
1 Black with grey stripe, cooler package and lightbar... Sharp looking...
1 white with grey stripes, white wheels...

1 Time Out Camper I call the Big On with black with grey stripe.

1 Dart white with white wheels... (New $2295.00) older one in stock $1750.00
1 Trailer Pro 32 cubic feet cargo. Black with 12" chrome wheels... Was $1395.00 Sale price $895.00
Most options I have in stock...
Note: The following trailers are no longer available by Time Out Trailers or Fred Burger Trailers; CM-1000, CM-2000, CM-LTD, Zephyre, Wind-raider, Egg, Blade, HRT and Aerodyn... Fiberglass company had a fire few years back, all trailer molds were lost...
We are not the best because we are the oldest... We're the oldest because we are the best... Going above and beyond to help customers...
Thank You and see you on the next page... Fred Burger...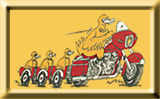 .