Classic Cloth 914-388-3338
Fred Burger "Trailers" & Portable Garages.
SPECIAL: BOTTOM OF PAGE... To 03-03-202
Classic Miracle Cloth...
Originally, years ago, Classic Cloth in dark blue package...
This is the ultimate Miracle cloth for cleaning every kind of metals...
<><> CLEANS <><> SHINES <><> PROTECTS <><>
Classic Miracle Cloth ~~ Absolutely incredible results on Chrome, Aluminum, Stainless steel, Brass, Copper, Silver, Gold, Pewter, Nickel and Bronze... It is also very effective on tile, varnished wood, plastic, glass, fiberglass and enamel paint surfaces...
Works great on motorcycle, cars and trucks... Cleans boot leather burn from exhaust pipes... Cleans polishes and protects all motorcycle metals, aluminum, chrome, magnesium, stainless steel, nickel, brass, silver, removes rust from chrome, oxidation and pitting from aluminum parts...
DIRECTIONS:
Classic Miracle Cloth is ready for immediate use...

It requires no wetting... Use on dry surfaces only...

Rub an item to be cleaned until surface darkens, then with clean soft cloth wipe off and buff to a brilliant luster...

DO NOT wash Classic Cloth...

The darker the cloth gets the better it works...

Store in a zip lock bag...

All Classic Clothes both plain bag or packaged are real coconut oil...
Some uses for the Classic Miracle Cloth:
Chrome and Aluminum: Motorcycle, Antiques, Classic Cars, Auto Trim, Bicycles, Boats, Trucks, Mag Wheels, Airplanes, Storm Doors, Windows and Shower Doors... Easily removes rust and leaves a beautiful shine...

Stainless Steel: Sinks, Water Cooler, Bathroom Fixtures and Appliances...

Brass: Antiques, Beds, Door Hardware, Railings, Musical Instruments and Belt Buckles...

Copper: Antiques, Copper Bottom Pans, Tea Kettles...

Silver: Plated and Sterling... Will clean very fast and easy...

Polishes and waxes the wood and enamel parts and removes rust and corrosion from the metal of golf clubs, fishing tackle, boats, guns and outboard motors...

Finest gun cleaning product on earth... Just wipe away lead, burn rings, rust, carbon and plastic build up on handguns, rifles and shotguns... Leaves a sparkling finish, is inexpensive and long lasting... It cleans polishes and protects... It can be cut into patches and used as a bore cleaner... Removes powder, lead, copper, and plastic fouling... Reduces the need for a lubricant... Can be used as a wiper on stainless or nickel guns...

Removes bad corrosion from metals...

Removes scuff marks from floors...

Removes alcohol, water, ink and heat stains from furniture etc.

Removes surface scratches from furniture, enamel and silver...

Cleans lacquered instruments without harm...

Removes road film from glass and metals...

Polishes without scratching any ferrous or non-ferrous metal, any precisionmetal product, any die mold, or machinery, also removes rust and discoloration and perfect for removing heat caused bluing...

Removes burn marks from electrical appliances, porcelain stoves, etc.

Removes paint spots from metal, glass, porcelain,, tile and varnished surfaces...

Removes rust stains from hubcaps, wheels, trim, bumpers, wash bowls and bath tubs...

Polishes all metal and wooden instruments, accordions and cymbals...

Removes rosin stains from violins...
Classic Miracle Cloth is also great for:
Auto bodies

Furniture

Ceramic Tile

Guns

Cutlery

Tools

Machinery care

Marine maintenance

Tool maintenance

Pots and pans

Porcelain

Bath fixtures

Appliances
Important Facts...
Classic Miracle Cloth contains nothing harmful to the hands and Will not injure the most delicate finishes...

Will not leave sediment in crevices or wear off varnished or enamel surfaces...

The formation of rust or tarnish on metals after being treated with the Classic Miracle Cloth is considered retarded, as the protective chemicals and waxes in the cloth penetrate into the pores of the metal and leave a wax coating, thereby causing the polished surface to retain its luster for a much longer period of time...

Two cloths will outlast one gallon of metal or furniture polish...
TO ORDER:
Call toll free 914-388-3338 with the pay options of; Visa, MC, Discover, Pay-Pal.
NOTES:
The wholesale cost of the miracle cloths has almost tripled in cost past couple years...
Price below is last chance to get these packed in individual zip lock bags with no fancy bags as photo shows...
I bought 1000 un-packaged bulk to keep price low...
`````````````````````````````````````````````````````````````````````````````````````````````````````````````````````````````````````````````
$ 5.00 ~~ 1 Cloth

+1 free

$10.00 ~~ 2 Clothes

+1 free

$15.00 ~~ 3 Clothes ~ Get

1 free.

$20.00 ~~ 4 Clothes ~ Get

1 free.

$25.00 ~~ 5 Clothes ~ Get

1free

$5.00 each ~~ 06 - 12 Clothes ~ Plus get

2 free.

$5.00 each ~~ 13 - 20 Clothes ~ Plus get 3

free.

1 Free with each 5 over 10

Classic Miricle Clothes may no longer be made... Manufacture does not answer my calls or e-mails... Have only a small amount left... About 50

I buy in bulk (1k per order) and past the savings on to you... It's better for me to sell a lot and make a little on each than only sell a few and make a lot...Thank you in advance. Fred.

Personal Note: I have used this product on my motorcycles and my 1948 Chrysler convertible and found it works as the company describes...

In 1983 i bought my first cloth at a Harley dealer for $9.95 and I was sold on Miracle Cloth since that day... Back than it was blue package. Package was changed dozen years ago. Product still works...

Trailer p

rices and options 3rd menu button down on right..

.
Karen & I are available to take your order, from 8 am to 8 pm 7 days a week, Eastern time... Need to call to order... We Thank you...
# <~Back to Top
Trailer prices and options 3rd menu button down on right...
Thank You and see you on the next page...
Karen & Fred Burger...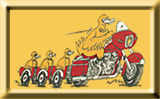 Updated: 03-03-2023
Fred's trailers Llc

B

y Appointment Only at my business. I Stock Campers Only.
30 Highland Road We accept: Discover, Visa, Master Card, (AmEx last choice) 3% process ffee
Ulster Park, NY 12487 Pay-Pal transfer funds & Financing. Cash, Personal Checks must clear first...

845-339-3390 Business

Bank Checks must clear first. No money orders or traveler's checks.
Call or Text Retail price is listed 3rd button down on right in menu.
e-mail fred@fredstrailers.com Need a brokerage company for any trailer shipped outside the USA.

By Appointment Only

. W

e ship anywhere. USA, Canada, Australia, Sweden and Norway. NOT China... .
41 Years in Business since 1982... Updated; 11-23-2023